Hope Childrens Home

  An extension of the "Church of Jesus Christ in India."

It is my priviledge to introduce to you this wonderful ministry opportunity.  Brother Chacko Thomas is pastor of the "Church of Jesus Christ in India."  Almost all of his 100  plus members are converts from Hindu and Islam.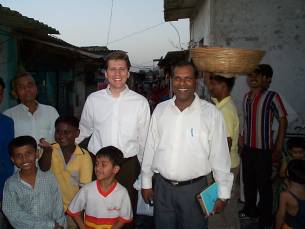 Over the years God has also expanded his ministry with the children of the area.  More than 100 kids attend the church's Christian day school - a great opportunity for the Gospel to reach unsaved parents.  However, 16 of the boys have no parents...except Chacko and his wife, Susan.

How can we help?  We can help by sponsoring the orphanage  for $25 a month. This is the cost per child to provide all of the above.

Are our gifts tax deductable? Yes.  All gifts are tax deductable  through "Lighthouse Ministries," which currently supports the church and school.

How do we send our support?

If you would like to regularly commit to sending a gift of $25 per month for the orphanage please do three things:

First, email me.  In the subject area write "Indian Orphange" and your name. You can ask questions or let me know that you are ready to begin helping the orphanage.  I will put you on the list to get updates about the kids.

Second,  begin sending $25 monthly checks to the address below.

Lighthouse Ministries

5100 Blue Hole Road

Antioch, TN 37013

Attn: Steve Sylvester

Please write on the check: Indian Orphanage.

Third, pray for the kids that God would keep them healthy and that they would know Christ, and grow in Him.

What can I expect?   You can expect to get pictures of the kids, via email, one or more times a year.  Each time I visit the orphanage in Bombay, I take pictures of the kids and see how things are progressing.

This is a great ministry to be a part of.  If God wants you to be involved, He will provide the money through you. All you have to do is say, "Yes!"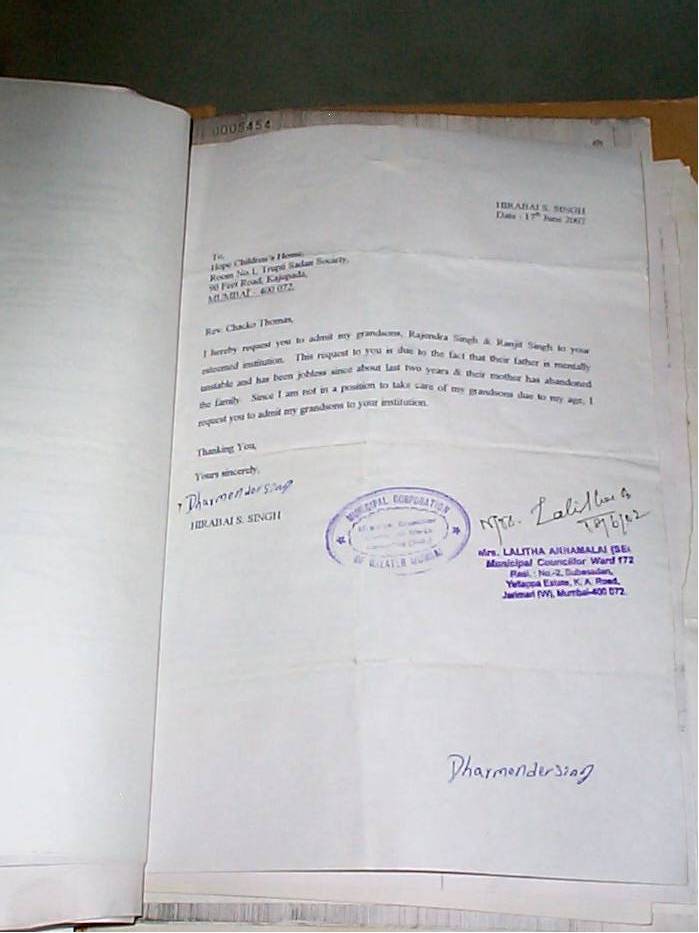 The children, ages 4-12, live near Pastor Chacko and his family in a secure building.

Here is a letter to Chacko from a child's family guardian.  They are requesting that the orphanage take responsibility for the child, because they can no longer provide for him.

This is one of many letters.  It is not unusual for a Muslim or Hindu to give their child to the oprhanage, knowing full well they will be brought up in a Christian home. This is a trade worth making for food and education.  What an opportunity to one day reach that family for the Lord!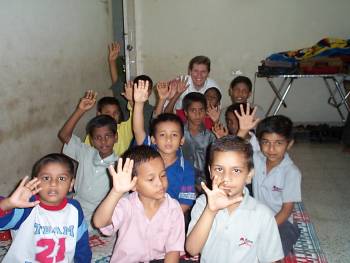 Each child has a suitcase to store his clothes in.

What needs does our money help provide?

Three meals a day, plus a snack are prepared in the kitchen.

And most importantly:  Regular attendance at church and the Christian day school!