Last Sunday I was in Korea.  Tonight, I am making a brief ministry stop in India. I am stopping here for a Sunday evening service at a Christian day care school.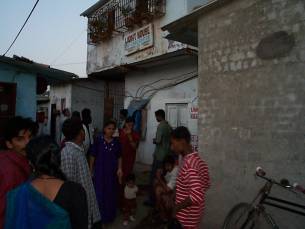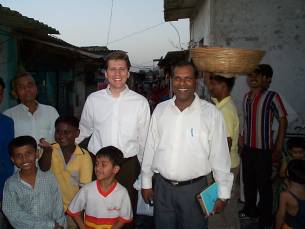 Chacko Thomas pastors a church that supports schools in two locations.  Tonight we are in an area commonly called, "The slums" -a very poor area.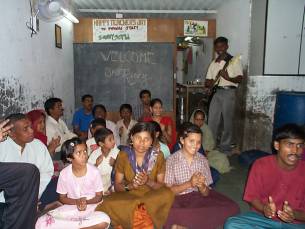 After the song worship time I am encouraging the believers  from 1 Timothy 6:6, concerning  godliness and contentment.  I am teaching about the importance of changing the way we think: from temporal thinking to eternal thinking.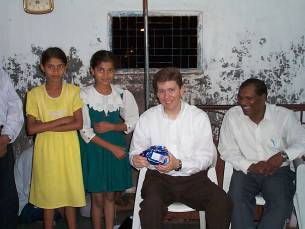 At the end of the service, these two little girls (below) are presenting me with a present.  Wrapped very nicely and tagged for, "Uncle Rudy,"  it is a little box with a Bible character inside and small light bulbs, one of which lights up when plugged in. 

To some standards, this does  not look like much.  It is old and used, but the gratitude behind it speaks volumes.  When it is time to walk out of the slums to our jeep-like vehicle, these two girls walk beside me, showing me where they live and telling me about Bible school.  They  speak a little english, which they  are learning at the school.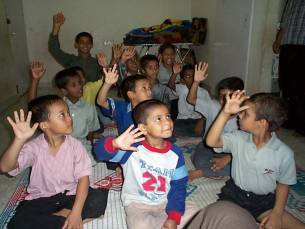 I do not want to leave town without stopping by and seeing the kids at the orphanage.  I am amazed at how well behaved they are.

They recently moved into this new facility that has better security and more room.

Each child has his own box full of clothes and personal belongings.  Many of these things were donated by friends in the U.S.  Sponsors are still needed at $25 a month.  So if God leads, let me know.

Thanks for your prayers as I traveled so far away.  On this night, at least 2 people openly responded to the Gospel message!