Mumbai, India - November 27-28, 2004

Quick View: a 60 second update

This weekend sixteen pastors and evangelist have come together for two days of ministry training. Some of the men live close by, while others have traveled from area villages. A few women from the church are also attending.

Ministry  Training Conference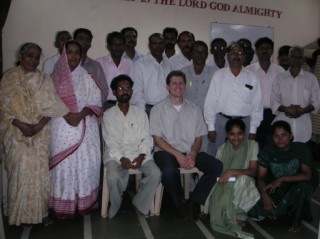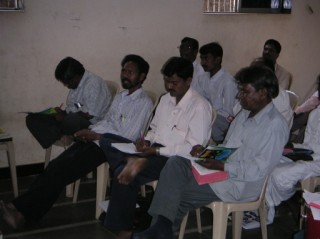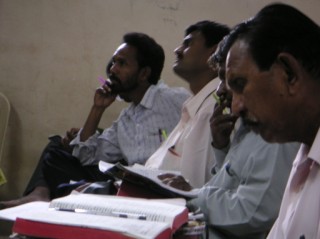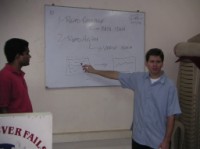 During one of the sessions we are  learning some of the basics about building a sermon. Now, each man has  the opportunity to prepare and preach a short message.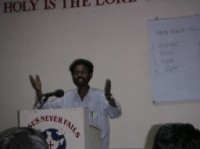 After choosing a passage from the book of Luke, fifteen minutes are given for each man to prepare a five minute sermon.  After each sermon we discuss the strengths and weaknesses, and how to make improvements.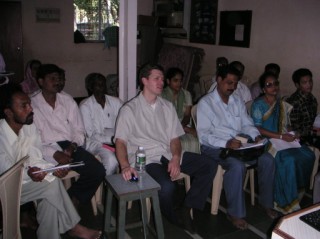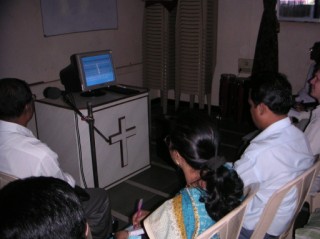 Other topics taught included:

How to clearly explain the way to be saved.

Relationship -vs- fellowship with Christ.

Steps for growing in Christ.

Above, I am teaching with the use of a power-point program that we are viewing on a computer.  This particular session is about "Three important steps for Christian growth."

At a Friday night service, three people prayed to be saved!  Praise the Lord for this! Thanks for partnering through prayer.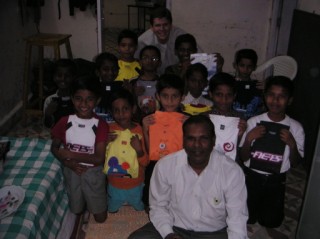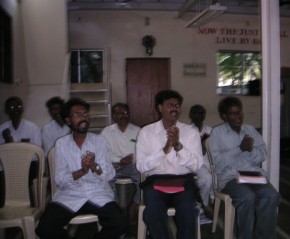 Just before leaving, we take Christmas presents to the kids at the orphanage.  This year we have bought them each a new T-shirt.

Our time is not just about learning, however. A vision is being passed on to these men: a vision to see their people mature in Christ! 

That completes the 60 second update. 

If your time permits, you can scroll down to learn more about the weekend.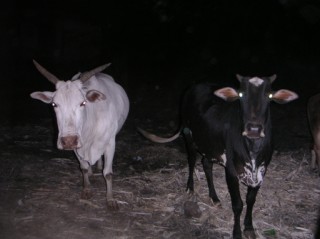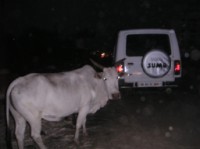 In India, these animals roam freely through the streets, or wherever they wish.  They are revered as "gods".

It's hard to imagine!  One of our previous trip updates shows how  trees are even worshiped.  This is part of the Hindu religion.

These pastors and evangelist are dedicated to reaching their fellow man for Christ.  When God brings India to our minds, we need to pray for these men and others like them.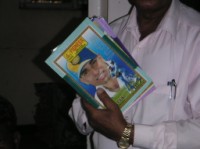 Stationary supplies (above) had been purchased, prior to my arrival, for the men to take notes.

I spoke about the importance of searching the Scriptures to learn more about certain topics, only to find out that there was not a concordance in the back of their Bibles.  So, we have made arrangements to provide each of them with a Bible reference book written in their language.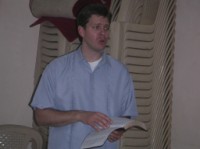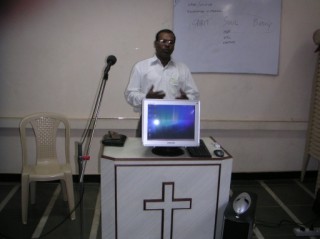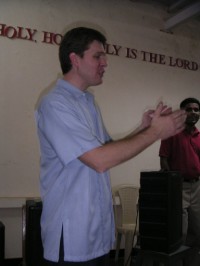 Chacko Thomas pastors the church where the training sessions were held and he also began the orphanage that his church sponsors.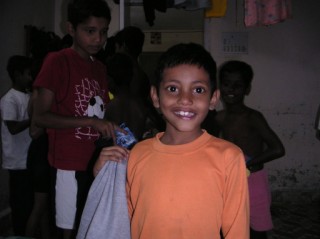 If you are interested in learning more about how to financially help the orphanage, I invite you to check out the link on our home page.  I have visited the ministry several times over the years and am confident that it is a worthy investment.