Villages near Aurangabad, India - January 2002 

My traveling companions were Chacko Thomas, a national pastor in Mumbai (Bombay), and his son, James.  After taking a 45 minute flight northeast of Mumbai to the city of Aurangabad, we drove about an hour into the country side, to the small village of "Dudhwad." 

Brother Chacko leads 15 pastors, who minister in 43 area villages.  Our plans were to visit and minister in two of these villages over the weekend.

It was about 9:00 Friday night when we arrived at the first village, where people were waiting for us inside the church.  This building was built by Lighthouse Baptist Church, located in Nashville, TN.  We had prayed and planned for this weekend for over a month and were excited about what God was going to do.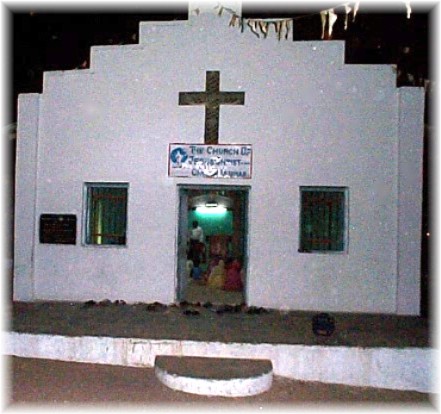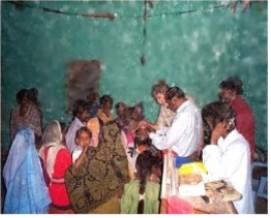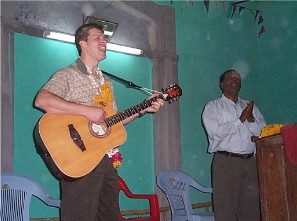 We began with singing and then moved right into the message portion of the service.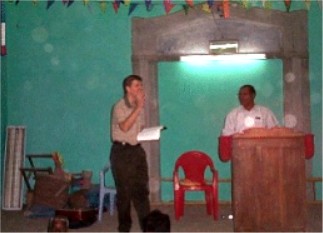 Though the hour was late, the people listened intently as Chacko interpreted.

Our subject was discipleship:  Becoming a disciple of Jesus Christ, and living the life of a disciple.

While the picture (below) is blurry, one thing became very clear that night:  After hearing the Gospel message, many prayed to be saved for the first time.  Afterwards, some came forward for prayer about other things.

We were truly grateful to the Lord for working in hearts that night as He did. The people were so receptive and full of joy!  Now, we were off for a long drive farther out into the country.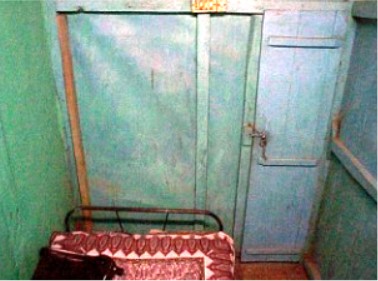 I could not resist getting this picture of my room.  I arrived here after midnight, and the going rate was 60 cents.  This worked out great with our budget!

Saturday morning we arrived at the second village of "Masai" (Below).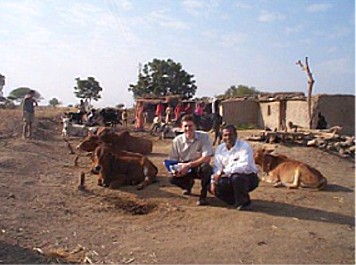 Many people had come from other places the night before.  We were able to provide them last night's meal and those for today.

I am told this was the first time a foreigner had been in this village in 70 years.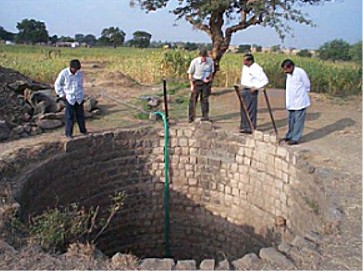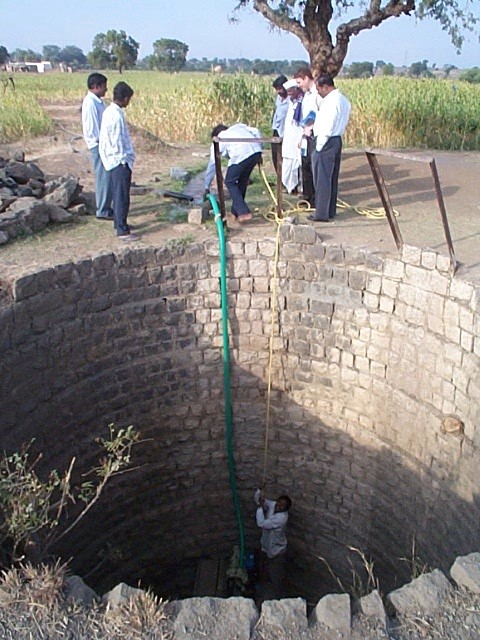 Each time water is needed, someone climbs down inside the well and starts a gasoline powered engine that pumps up the water.  Through a hose, the water is distributed to the crops.  For another $200 the well can be seven feet deeper, allowing the pump to run longer before the well becomes dry.  If you would want to help provide for this, please email me and we can see it happen!

I preached in this village through two interpreters:  Brother Chacko and Brother Phillip David, also a national pastor in Mumbai. 

This was originally to be a pastors conference.  However, we had so many other people attend that it also became an evangelistic meeting. I encouraged the pastors in how to shepherd, and encouraged the people to follow their pastor in learning the Bible and becoming involved in ministry.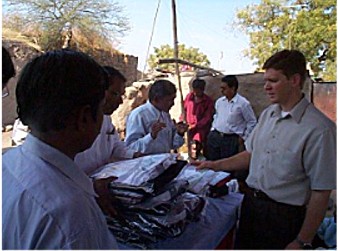 New Bibles had been purchased for each of these men (translated into their own language) and would be coming soon.  Also, a new set of clothes (shirt and pants) were brought for each of the pastors.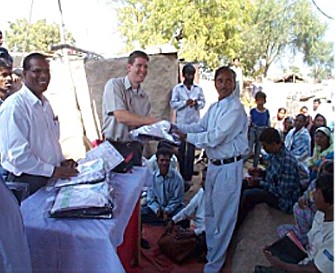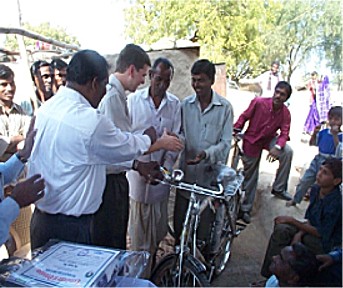 After the preaching it was a pleasure to pass out a few gifts.  First, several of the widows received new outfits.  Then, we turned to the pastors.

This particular man, Shadrach, had just been ordained into the ministry today.

Some of the most exciting moments for a couple of the pastors was when we presented two new bicycles to them, for traveling between the villages.

This is a one year old well that has been dug for the people to drink from and help grow their crops.  The Christians in the village farm this land for their own food and to sell.

In both sermons of the day, the way of salvation was presented clearly.  At the end of the second message, many prayed to be saved!

Many thanks to those who prayed for this ministry.  Your support made a difference!  After three services, 200 people responded to the Gospel message, and a conservative estimate is that 100 of them prayed for the first time to be saved!