Japan Ministry - October 2003

Prayer Partners, Thank you for supporting the ministry this past weekend by doing your important part. God answered each one of the prayer request that I had emailed you about.

Monday: My first stop this week is in
Japan. I am meeting with pastors who work wth the Tokyo Baptist Church. Joel works with the youth and Ruben pastors a satellite church that I am scheduled to speak at this coming Sunday. (Joel is wearing the glasses and Ruben is not). Both of these men are from the Philippines, but are now a part of ministry in the Tokyo area.
We are spending the afternoon talking about what God is doing in Japan, praying together and planning for my return in a few days.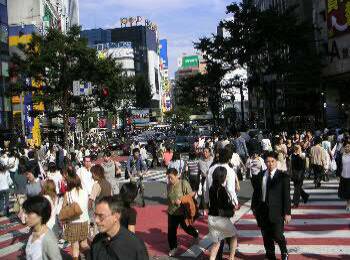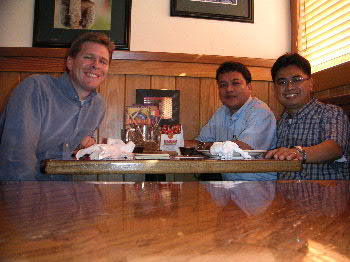 I have met these two brothers as a result of my ministry trips in the Philippines. One of my Filipino pastor friends had told me about Joel. A couple of weeks ago I emailed Joel and today we are enjoying fellowship together over lunch in Tokyo. As a result of being a part of God's work in the Philippines, God has opened a ministry door in Japan! It is a reminder to me that God is always orchestrating the events of our lives. Psalm 37:4 teaches that if we are delighting in the Lord, He will give us the desires of our heart. God knew that I desired to one day minister in Japan. So while I was delighting in God's Filipino ministry, He was putting together the contacts for a Japan ministry! How good our God is!!

Thursday: This morning it is time for breakfast in the Philippines with the Horn missionary family. Tony, Marfi, and Joshua Horn are from the States. It is always good to fellowship with them. You can read about their ministry under the various Philippine links. One of their prayer requests is that they will be able to travel to America next year to visit those who are supporting them in prayer and finances. Please pray that God will provide the funds for them to make the round-trip next spring. Let me know if you would like to donate some money for their trip. I can put you in touch with them via email.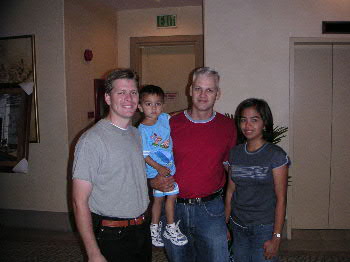 Wednesday:: Today, I am in
Korea and am excited to see my friends Mike and Alica Nicholes. They are American missionaries who work with the youth. We have just enjoyed breakfast together and will now spend time talking about what God has been doing in our lives, sharing prayer request and praying together. You can find out more about their ministry under the links for "South Korea."


One of their prayer request is for other Christians to come over and help with the ministry. There is a real need for short and long term missionaries. If you are interested in taking a trip over to serve in the ministry, let me know. I can put you in touch with them.

Sunday: I arrived back in Japan last night and as I think about today's schedule and my "body clock" (the time zone my body "thinks" it is in -I am not really sure) I am so glad to know that people are praying for me today. At 7:40 this morning I board a bus and ride for an hour to "Tokyo Station," where God has provided me with a special blessing - A Japanese Christian to guide me to the church this morning! His name is Jessy.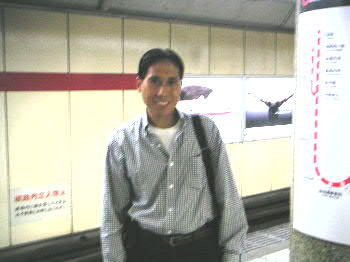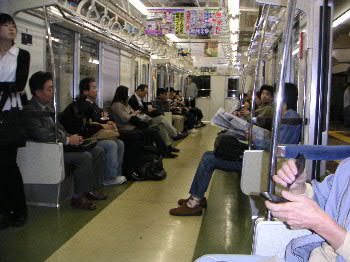 Jessy is leading me to and from a church, north of Tokyo. The trip is one and a half hours each way. Right after the service, I have to come back to Tokyo Station and catch the high speed train to Osaka for a meeting tonight. There is not enough time to get on the wrong train, so having Jessy is a real answer to prayer!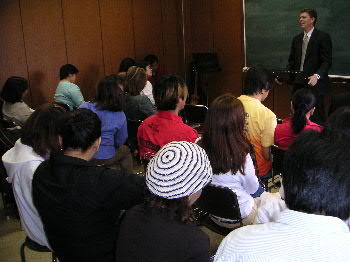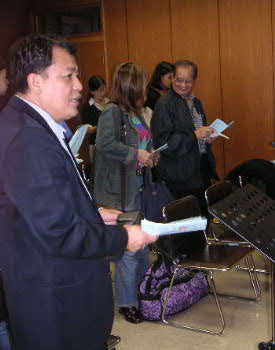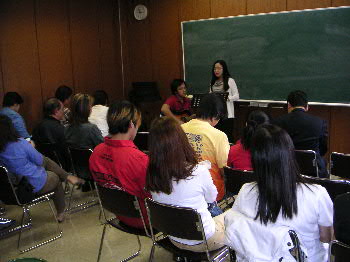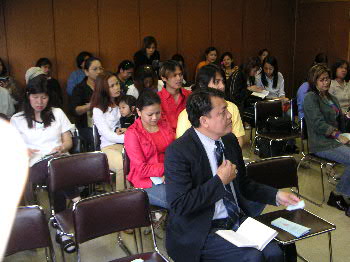 Just a few months ago, Tokyo Baptist Church began another church that has been ministering to both Japanese and Filipinos. This new church is using the community center in the area on Sundays, and also meets for Bible study during the week.


Pastor Ruben Ronquillo, a Filipino himself, pastors the small and growing congregation. Please pray for Ruben as he teaches the people every week.
There are many in the church who have an unsaved spouse. It is not easy for those who are living in this situation. But I can tell by watching the people that Ruben is really leading them to find their strength in the Lord. There is a lot of joy here today and the people are singing with enthusiasm and smiles.

I know that many have been praying for this weekend, and some might even be praying right now, as I am preaching. I am told that no interpreting is needed, as long as I speak slowly and clearly. Our subject today is, "What does it take to get the attention of God?" Verse by verse we go through the passage in the book of Luke. I am noticing that as I speak, people are nodding in agreement. When I mention another Bible verse as a side note, some are turning to the passage in their Bible to find it. Yes, they are understanding. I am so glad that people back home are praying.

This morning we have been " fishing for men," and now it is about time to draw the net. There are several visiting for the first time. While much of this message has been about living the Christian life, it has been seasoned several times with the "Gospel message." It is now time to lead people in a prayer to be saved, from their seats. I wonder if anyone is ready to pray seriously for the first time? -- We are finished. Five adults are raising their hands saying "I have prayed to become a Christian." Wow! We look at each other as I welcome them to the family. I can see in their eyes... they really did mean it! In the coming days, Ruben will teach them what it is to become a disciple!


Those of you who prayed for this ministry trip, were very much a part of what I just described. We have been partners together in His kingdom! Please do not ever think that being a prayer partner is a little thing. It's not. Prayer makes a big difference!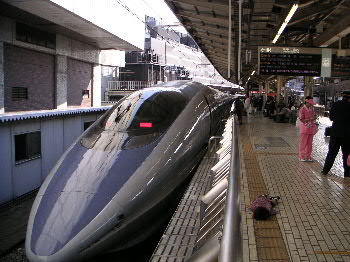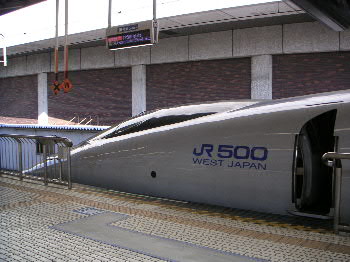 Now, it's time for the Bullet Train

Actually, it is called the "Shinkansen." I am told that the first high-speed Japanese train developed back in the 1960's was shaped like a bullet and was called the "Bullet Train." It had problems floating a little because of the air getting under it, so it has been redesigned several times. Now, it is shaped in such a way that as it gains speed, the air pushes it down on the track, keeping it from getting airborne. While it is no longer shaped like a bullet, it has kept the name with most westerners. The speed is in the neighborhood of 200 mph.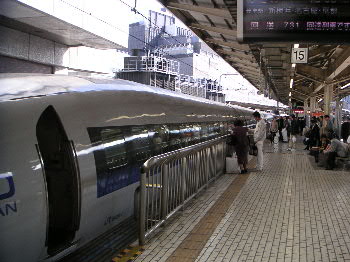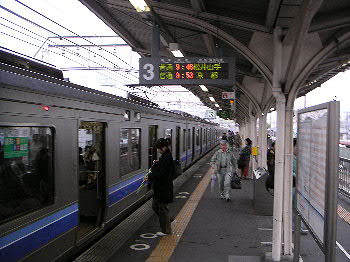 After the morning service, Jessy takes me back to Tokyo Station. He goes home and I take the bullet train to Osaka - about two and a half hours. Then I take a local train to the town where Bill and Terry Craig live. They have been missionaries in Japan for almost 28 years!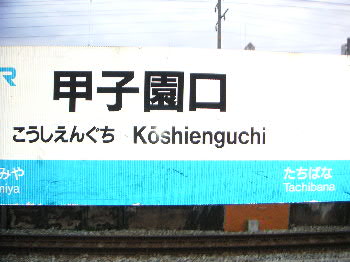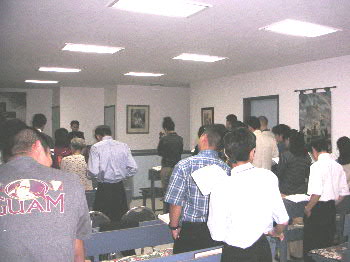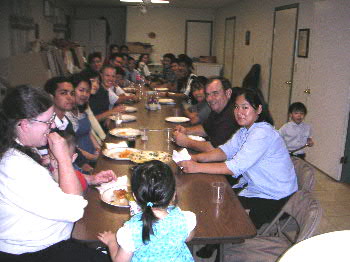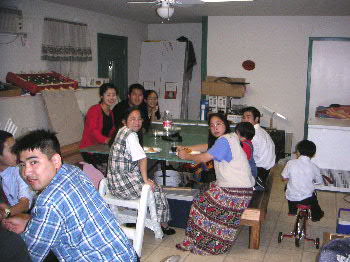 Tonights message is specifically for Christians and is about the text of 1 Timothy 6:6, "Godliness with contentment is great gain."

We are learning how God molds our character, the secret to being content, and why contentment is important if we are going to enjoy the satisfaction of being used in His kingdom.

I want to take a moment to tell you about the special ministry of Bill and Terry. Remember, I mentioned that they had been missionaries in Japan for almost 28 years? Well, they have a lot to show for their time in Japan, because they are the parents of ...... 21 kids! No, not a typo. 21 kids!! Two of the kids are grown, and the other 19 are adopted Japanese kids. I asked Bill how he and Terry knew this was God's direction for their lives. He told me something like this:

After their second child, it became medically clear that Terry would not be having any more children. For ten years they raised their two. Then they received a phone call from a lady at an orphanage. She had a one week old baby boy and wanted to know if they would like to adopt him. Bill told here that they were busy in their ministry right now and would not be able to.
That next Sunday, something happened that has not happened any other week in the almost 28 years of ministry. That particular Sunday a young adult man came to visit the church. He did not have a job and was in real need of help financially. Bill wanted to help him in any way he could. As he talked with the young man he found out one of the causes for his hardship: the man had been raised in an orphanage.
If you are raised in a Japanese orphanage, you get put out on the street at 16 years old. They figure you can work on your own by now. This guy did not have any education, or skills for a job -and now he was really struggling to make ends meet. Bill and Terry believed that God was speaking to them about adopting that baby boy. So, they called up the lady and told her they would do it. And that was the beginning. There would be 18 more babies.....so far!

I was really impressed with these kids. I am sure that like any family, they have had their difficult times. But growing under God's principles has had an impact. They all seem to get along so well, love the Lord and are involved in the ministry. I do not think I have seen so many happy faces in one family. And, they play ping-pong really geat, too! We had a great time doing that.
Bill and Terry were willing to change directions in life. They were willing to do something that God wanted, even though it was not in their original plans. As these 19 Japanese kids grow up and have Christian families of their own, imagine the possible influence that the Craig family could have across the country of Japan...because they did not hold on to their plans.
It is a reminder to us to be flexible in life...to be willing to do whatever God wants, even if it means a major change. Our life is not our own.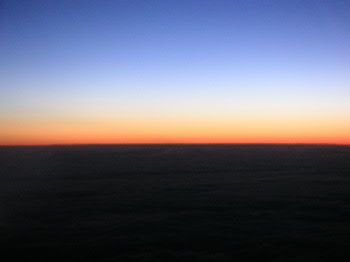 Time to fly home now and see my family. Thanks for your prayers in the ministry.

New converts! Christians encouraged!


Sunrise at 35,000 feet coming back from Japan.