Kenya Ministry  October 19 - 24, 2004

Quick View: a 60 second update

Prayer Partners, Thank you for praying. God answered your prayers this last week as many lives were impacted for Christ!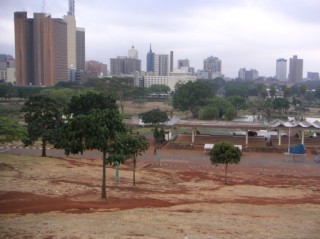 Nairobi, Kenya, East Africa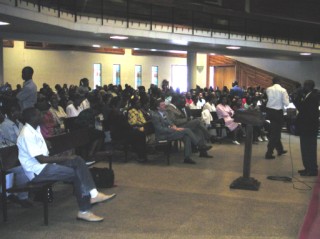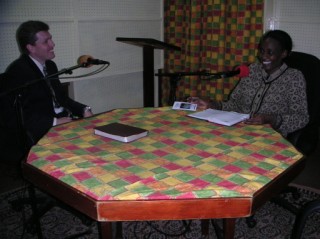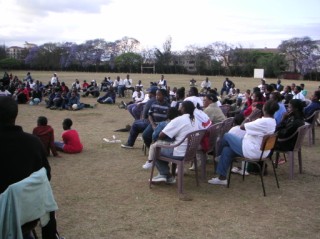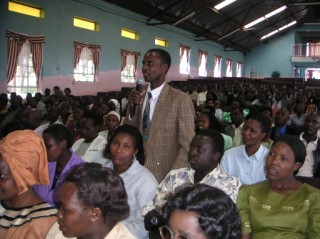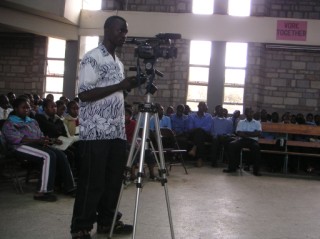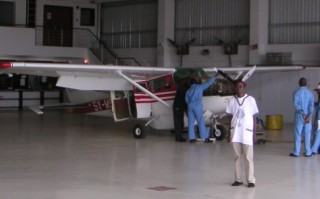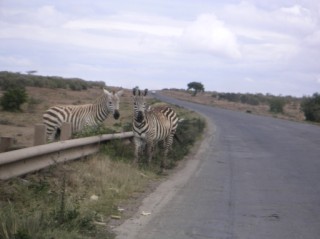 Our theme this past week in area churches was two-fold: Discipleship and  Marriage.  Both were topics of great interest  among the people.

God allowed me to speak in a variety of settings.  One of those was a radio interview, pictured above.  It was a show called  "Profile" that is heard all over Kenya, in which questions were asked about Word Outreach and it's purpose.

On Saturday there was a marriage conference outside Nairobi.  The message was translated into Swahili as I spoke. After the sermon, there was a question and answer session that went on for an hour or more. 

Most of the meetings were video recorded for airing on television around Kenya and in neighboring countries. We saw at least five people publicly indicate that they had prayed to be saved and several hundred Christians made decisions for Christ in other areas!

...and that's your 60 second update!

Scroll down for the full story.

Visiting a missions aviation ministry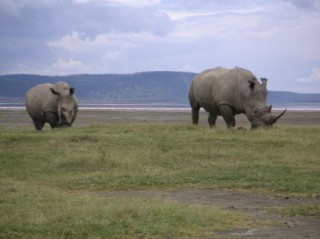 When some people think of Africa, their main thoughts are about the animals.  Seeing the wild life was a real treat, but the real action in Africa is what God is doing among His people there.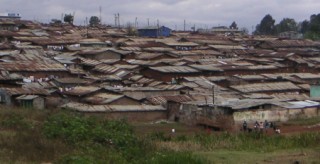 For example:  After seeing the largest slum in the Nairobi area, one man sensed God's call to help the fatherless kids who lived there.  He resigned from his job and started a Christian children's home.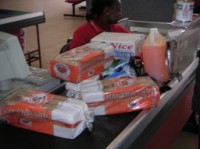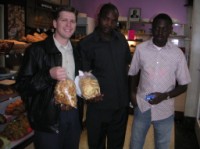 On Wednesday we visited the kids.  Before going, however, we went to a couple of stores and bought about 2 days worth of food for the orphanage.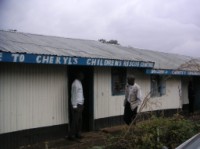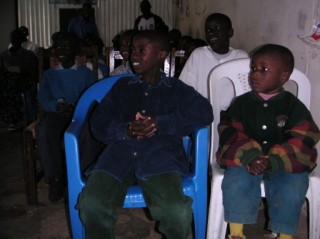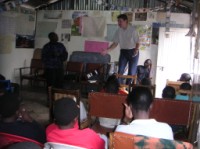 Then, after telling a Bible story and teaching, we passed out some of the food.  There were about forty children and others at satellite children homes, too.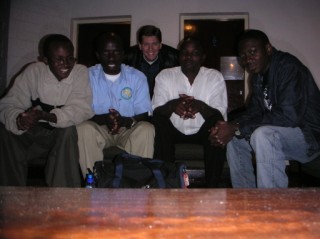 Here I am with my Christian traveling companions.  These guys went all over Nairobi with me, and we also went together  to the country side for another meeting two hours away.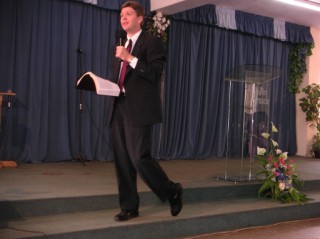 Our first church meeting was on Wednesday night. The teaching from Matthew 28 was concluding a day of celebration for a national holiday.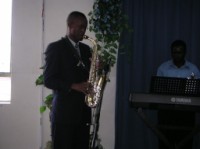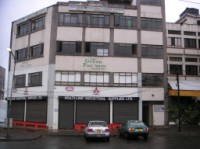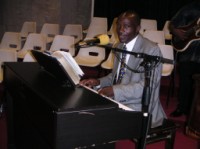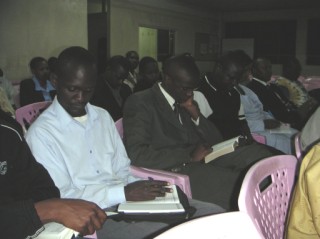 This outdoor service was the beginning of three nights of a discipleship conference at an area church.  After worship in song, we worshiped as we studied the Scriptures.  It was quite evident that these Christians were serious students of the Word!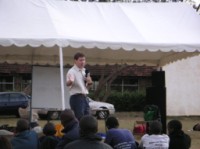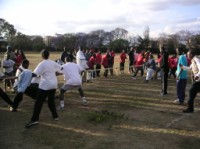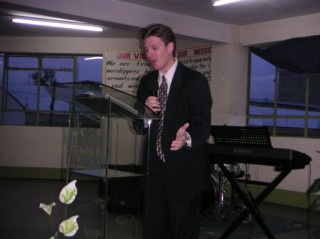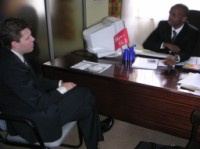 I encouraged them from the book of 1 John about two levels of closeness with God:  relationship and fellowship. And then on Friday night we learned from Genesis 2 about marriage.

God opened doors for ministry through radio, television and the newspaper.  Here, I am meeting with a manager of a Christian radio station.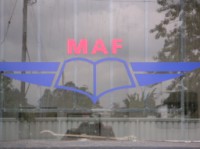 It was good to visit Missionary Aviation Fellowship to see how God is using this ministry among the tribes in the country.  We also explored the possibility of flying to some villages in the future for an evangelistic meeting and conducting a pastors training conference.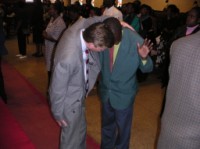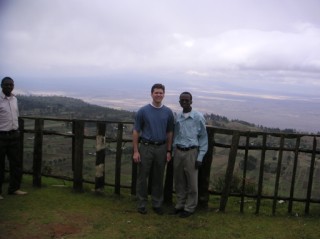 This church is where my friend, Bramuel, attends.  He is a Christian television producer that found the Word Outreach website about seven months ago when He was searching the internet. 

After reading about our focus on discipleship and marriage at the website, Bramuel prayed about the possibility of having the ministry come to Africa.  Months later, God opened the door!

I believe that this was a direct result of the prayers of Gods people.   Those who pray for the ministry are heard by God, and this is a great example of God answering!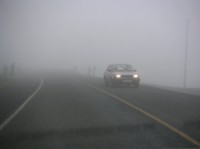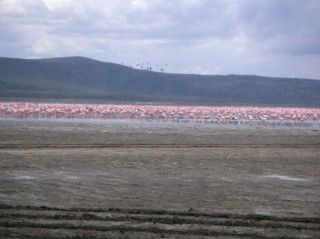 Saturday morning, we traveled through thick fog to the town of Nakuru, a couple of hours away, for a marriage conference.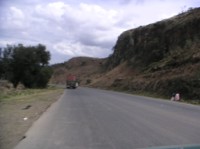 Within the past month there had had been two major accidents along the road from Nairobi to Nakuru.  After dealing with the fog, we would be driving over a very rough road. 

Of course, we prayed for God's protection, but it was also wonderful to know that others were praying back home. Thank you prayer partners!

Before the marriage conference, we stopped by a national park for a couple of hours.  Around the edge of this lake you can see the color "pink."  A closer examination reveals that this is a picture of pink flamingos.  I was told that there are millions of them here.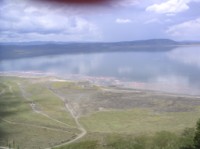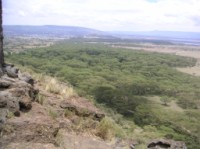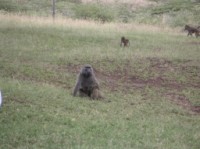 Driving through the forest and the open land gave us a chance to enjoy seeing the animals in their own environment.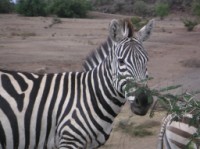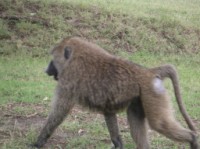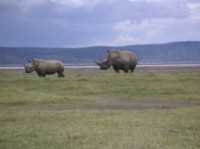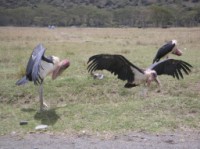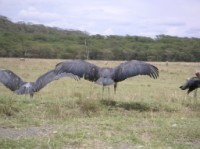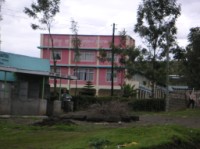 We could have spent several more hours in this park, but it was time to get to the church to meet the many married couples who were coming to here the Word.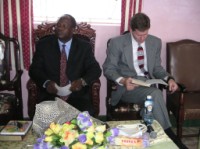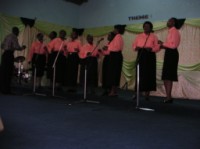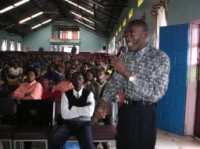 The pastor translated the message, "Intimacy in Marriage" in Swahili as I preached. Then, there was an unexpected  time of "Questions and Answers"  from the listeners.  People directed questions to me for over an hour about Biblical principles for the marriage relationship. 

Also, during this time God provided the opportunity to comment from a Scriptural perspective on the subject of "Eternal security."  It was great to watch the expressions of happiness on Christians as I shared that their salvation was secure in Christ.  It was a chance to encourage them to go forward in growing -moving from the subject of "Relationship" to "Fellowship" in Christ.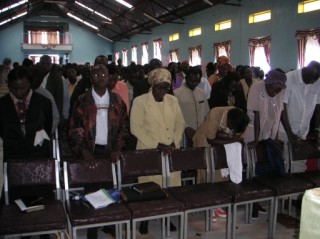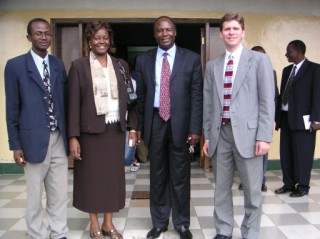 It truly was exciting to talk about the roles of husband and wife and listen to the questions:  proof that these Christians were serious about having a Christ centered marriage. It was also great to lead so many couples in prayer, as we asked God for help in our marriages.  In addition, many made the decision to sit down together and talk with their mate about their relationship in the coming days.

On Sunday, we finished up the week speaking in two more services.  The morning service completed our discipleship conference, and then we traveled to another church for a youth meeting.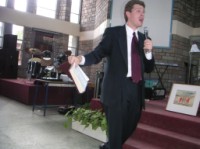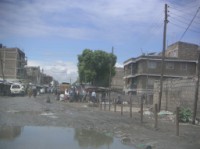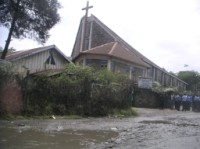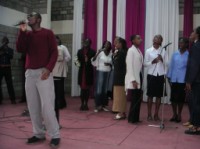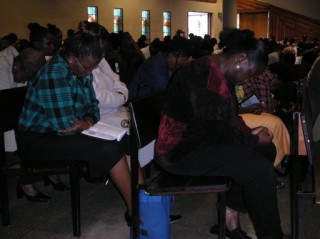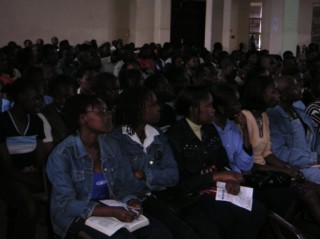 Hundreds of teenagers came who represented five different churches.  They listened intently as we learned from God's Word. At the beginning of my speaking time I explained how to know that you have entered into a relationship with Christ.  During a time of prayer, two prayed to receive Christ.

This man (above), who became a Christian came up for prayer afterwards.  I directed him towards someone who could help in discipleship.

At a special Friday morning service we saw three people pray to be saved and many Christians made decisions for Christ concerning other areas.

After speaking about having a relationship with Christ, we talked about having fellowship. Our subjects had to do with walking in the light, relationships with Mom and Dad and contentment. 

I am happy to say that the ministry of Word Outreach was invited back to each place I visited. This is a testimony to God's Word and the power behind the ministry...prayer!  Many lives were impacted for Christ, and together we have been used in God's kingdom for His Glory! Thank you for doing your important part!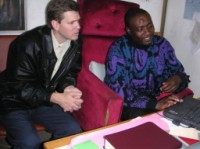 (Pictured above and left) Before seeing the children, the man who leads the home showed me on his computer where the kids had come from and we talked of the future plans for expansion of the home.