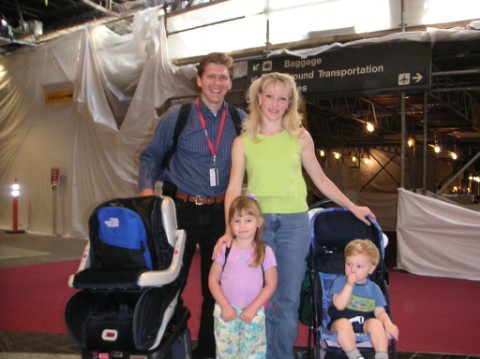 Finally, the long awaited day had arrived: we were on our way to South Korea!  A great deal of preparation had been done before the trip, and we wondered if it was enough.  The travel time was to be 25 hours long (including time in the airports).  That's a long day with two small children!  Still, we both sensed in our hearts that this is what God wanted and He would take care of everything along the way.  That thought proved to be true!  And we are so glad we went!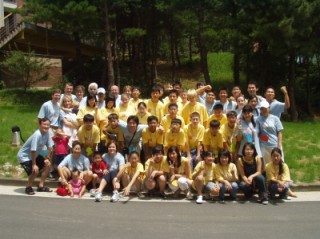 More than once Shelly and I could be heard saying, "You can tell people are praying back home."  We really are so grateful to the many "Short-term Prayer Partners" who help regularly through prayer.  Thank you!

Word of Life Korea       English Camp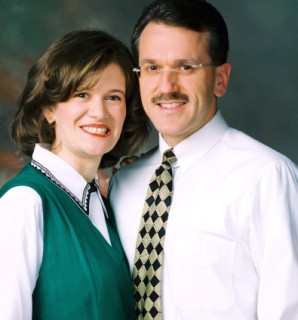 During camp they are assisted by Korean counselors.






Mike and Alicia Nicholes, missionaries to the youth of Korea, direct Christian camps each year. Their focus is "Evangelism and Discipleship."

Their ministry is an outreach of local churches and individuals in the U.S.

These Koreans are graduates from the ministry & discipleship school that Mike's brother, Steve, directs.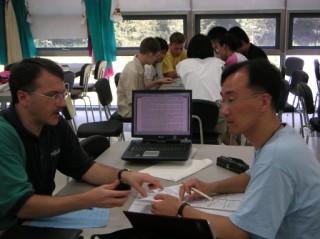 Their service as a camp counselor is a continuation of their ministry training.

At the end of camp there is an evaluation time with Mike.


These two young men have  become Word of Life missionaries. They are fruit  of the Korean ministry.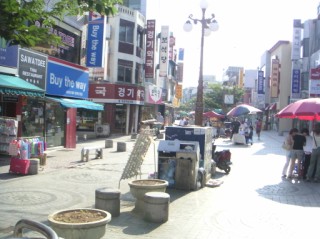 We are staying in Songtan (2 hours south of Seoul) for a few days before camp starts. Here we will do some final preparation.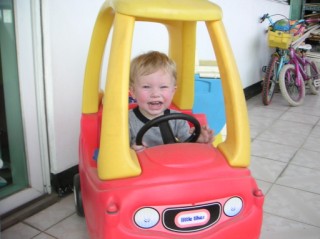 God has been so good to provide us with a home to stay in, complete with toys for the kids!  The missionary family that normally lives here, is back in the states for a few months.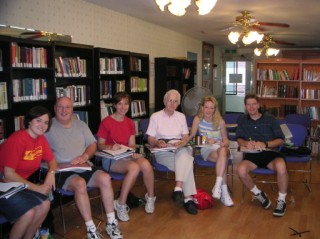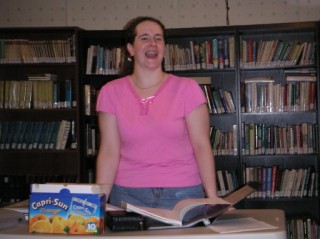 Because many young Koreans desire to learn English, we will help provide them a great reason to attend camp. It is being called, "E-Camp" (E for English).  These

kind of camps are popular in Korea, but ours will be slightly different than most - the Gospel will be presented.

Today, we are being taught some

of the best methods for teaching

English. We are planning to  interview each student on the first day of camp and evaluate what level of class they will be in.  Then we will teach.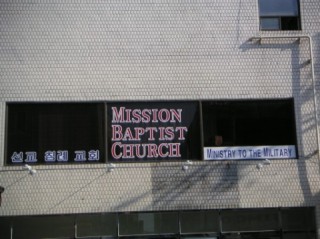 Before heading off to camp we are attending an area church, where I am  preaching this morning.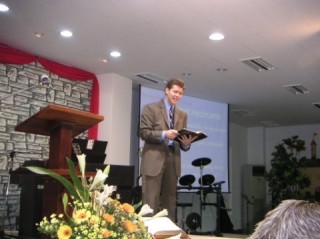 Daniel chapter one is our text, and

through it God encourages us to live for Him during difficult times.

I am told later that it was a very timely message because of a special situation  happening in the church family.  God uses His Word to encourage us all!

Now...  it is off to camp!

Leaving Songtan, we begin a four hour ride across Korea.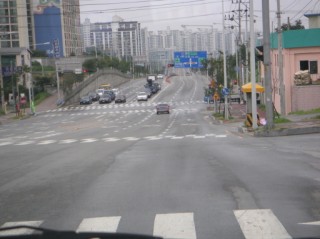 Korean rest stop: complete with ice cream, restaurants and ultra-clean facilities!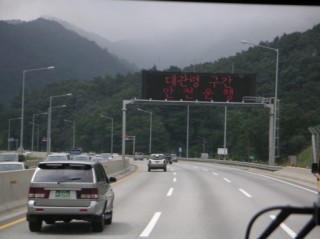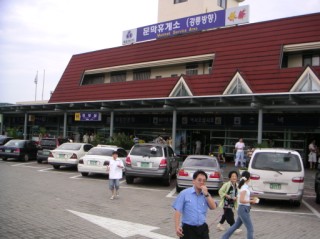 This summer, camp is at a university.  This is a setting that, no doubt, pleases the parents.  Being very education oriented, Korean parents are happy to send their child to camp if they know that learning will take place.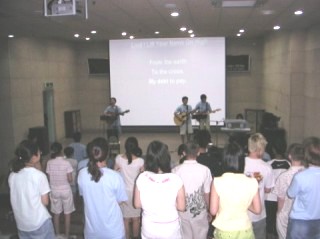 Sunday night begins with "Power Hour." It is the first of six evening services.  Our theme this year is "Unbelievable Power."  It refers to the power of the Holy Spirit,  mentioned in Acts 1:8.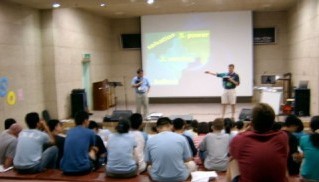 Sunday and Monday night, Mike will teach about, "Knowing Christ."  Tonight it is presented that "sin is our most important problem, and Christ is the solution!"

It is Monday morning and we learn, first hand, what to expect in our daily schedule through Friday.  It will prove to be busy, but rewarding.   We awake each day, usually before 6 am, allowing enough time to get the whole family ready and at  breakfast by 8 am.

We are praying much for tomorrow night, that campers will respond to the Gospel Message.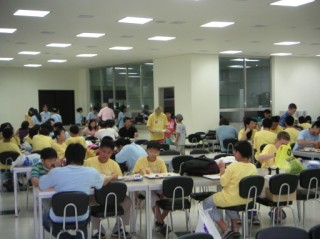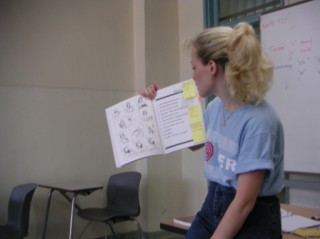 After breakfast, English class begins.  Shelly and I are fortunate to have students who tested well last night in their English speaking skills. Our class will be a small one, with some of the more proficient speakers.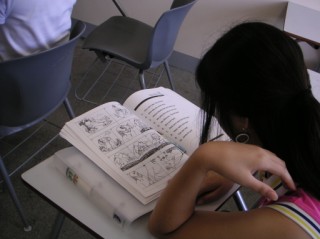 The books we are using contain Bible stories in each lesson.  Students are increasing their understanding of English while becoming more familiar with God's Word!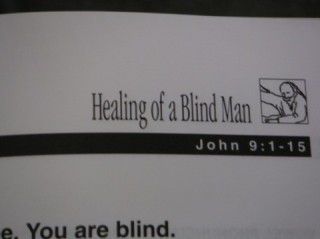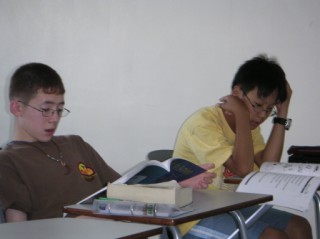 One of our students is American. His family lives in Korea because of his father's job.  He is a big help to the Korean boy beside him.

Campers at this level are learning how to use proper grammar when speaking.

After class, it is time for Bible Club, which includes singing,...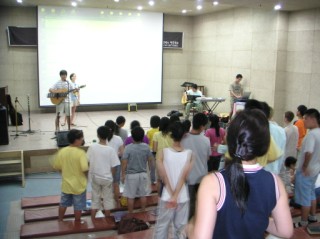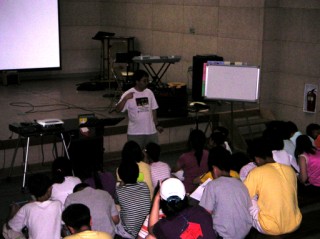 ...large group teaching times, and a small group Bible study.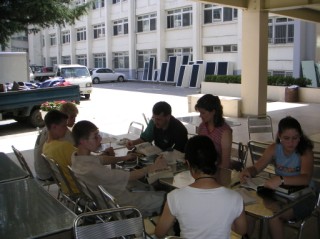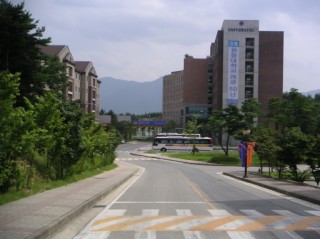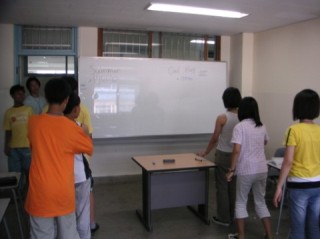 Now, it is time for English Competition. This is  when  different teams compete against each other in games that test their English knowledge.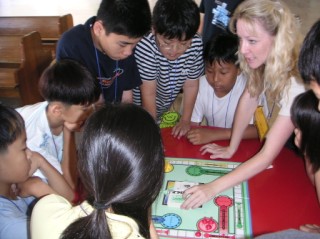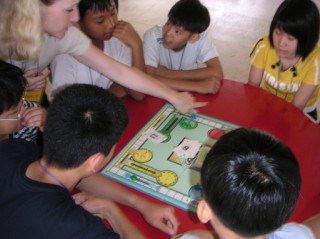 Next, it is time for English elective classes.  Shelly and I teach the class for board games.  We have a new group of kids each time.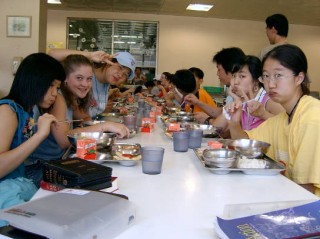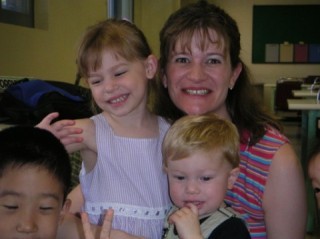 While Shelly and I are involved in some of the morning activities, Alicia Nicholes is taking care of the kids.

We not only appreciate what she is doing, but especially the way she is doing it.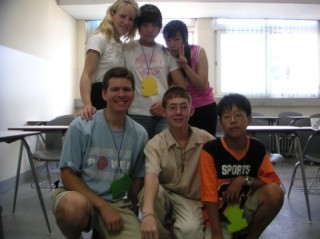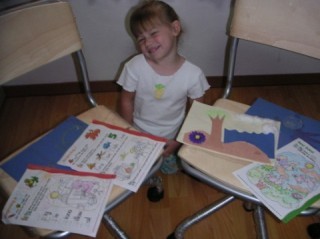 Sabrina is busy doing crafts, and is also learning a Christian song in Korean.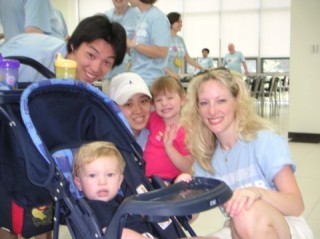 After the morning activities, we would all meet in the cafeteria

for lunch.

Afternoon activities were different each day, and included going to the beach,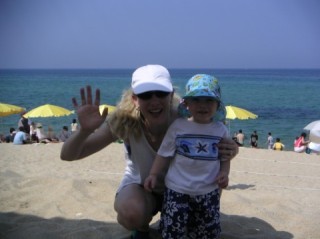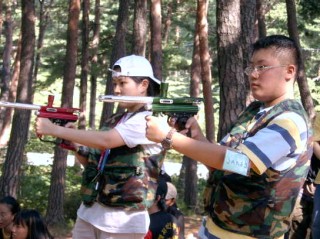 ...paintball, and other events.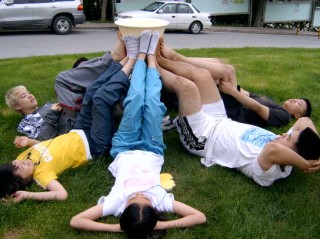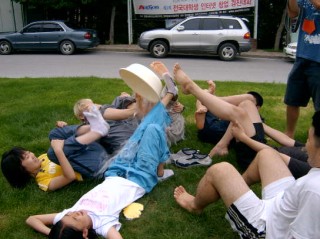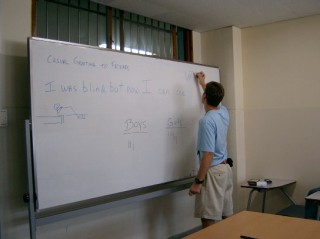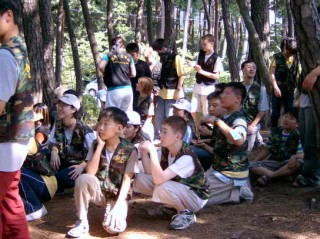 The water was kind of chilly for me, so after wading in, I came right back onto the beach and decided to talk to Shelly and the kids for a little while.  After a few minutes I was being lifted off the ground! Several of the larger guys had run up behind to pick me up and carry me out into the water, and dump me in!  After all of my struggling against them, the water did not feel cold anymore -in fact, it was just right! After that, I spent most of my time in the ocean helping Sabrina to swim.  Josiah seem to have the most fun playing on the beach.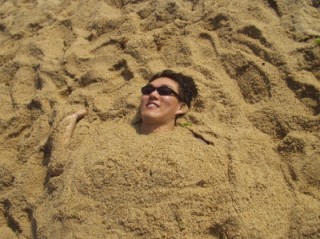 Every evening at 7:00, Power Hour begins.  Tonight, Mike is concluding his teaching on "Knowing Christ."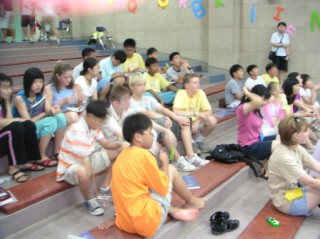 The campers listened intently as Mike presented the Gospel message.  And at the end...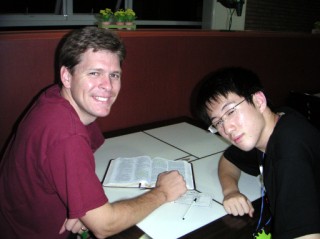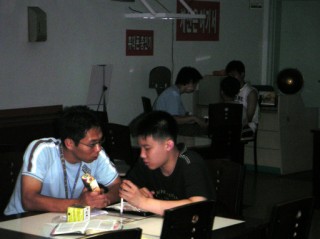 ...several campers prayed to become Christians.

The organization of this camp was very well thought out. For tonight was not the end of the week,but rather, the beginning!  Knowing Christ is the first step to becoming a disciple.

And so, for the next three nights,

I, with the help of a Korean interpreter, get to encourage the campers on the topic of "Growing in Christ."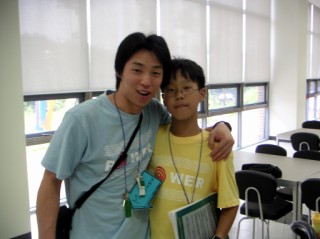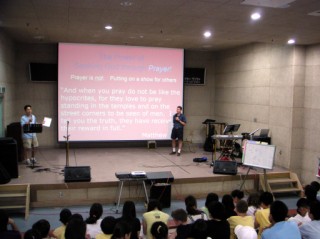 Tuesday through Thursday we are learning about how God desires to transform our entire inner-person.  The circles on the screen above represent our mind, will and emotions.

Each night we explore how God transforms us in a different way:  through Bible study, prayer, and serving God.

On Friday night, Mike returns to speak to us about "Showing Christ to others." At the end of the service Christians are encouraged to dedicate themselves to living for Jesus Christ.  Then, those who do this in their heart are given the opportunity to publicly make this commitment.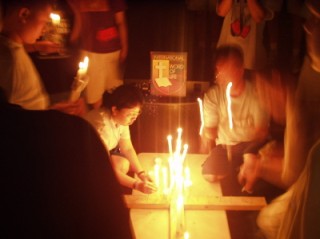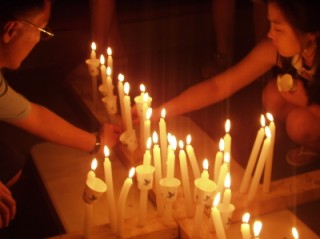 Those who wish, may light a candle to represent their life, and then take that candle to the front of the auditorium.  There, they find a cross.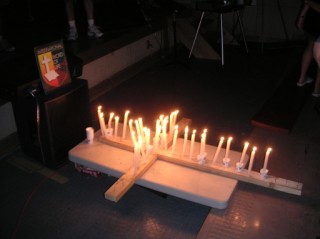 In placing their candle on the

cross, they are symbolizing their desire to live for Christ.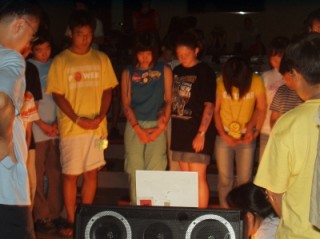 Together, we are praying that God will help us to grow as Christians, and use us to show

Jesus Christ to others.

This was a special night for these campers. And it was a serious night of commitment:  a night they will remember for a long time.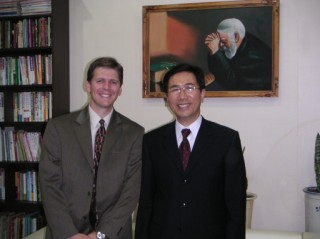 Sunday afternoon, back in Songtan, I am visiting Central Baptist Church for their college and career age service.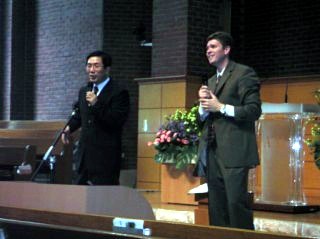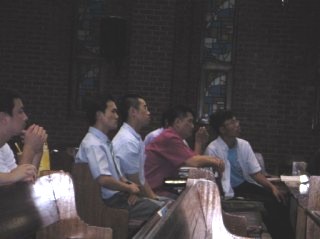 Pastor Bae leads a very active church.  In fact, many of the young people, normally in this service, are out of town on a missions trip.

Monday afternoon we join the Peter Chae family for an authentic Korean meal at their home.  Peter and his wife, have committed themselves to become missionaries.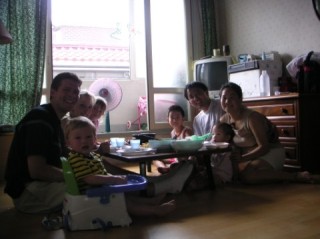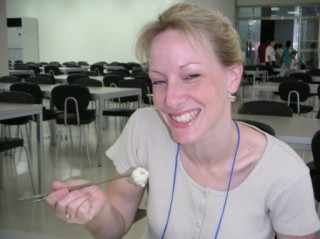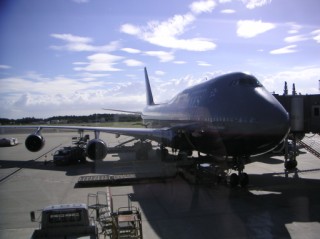 As we fly back to the States, we find ourselves wishing we had a few days longer in Asia.  Maybe, we can take the ministry trip again in the future.

In total, 11 campers have been  saved, and many more dedicated their lives to God's service. We are glad to be involved in what God is doing.

And, we are also glad that God has provided you as part of our prayer team!  God is so gracious to allow us all to be involved in the work of His kingdom, together. Thank you.






Shelly and I were a part of a small group of "Camp English Teachers" who came from the U.S. and Canada.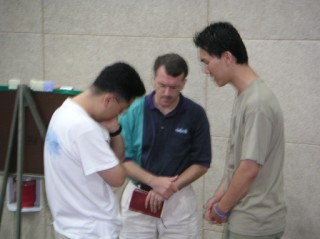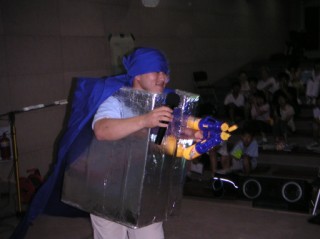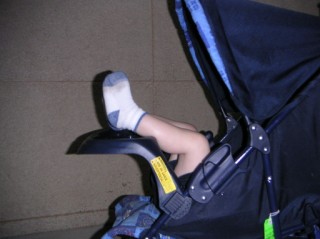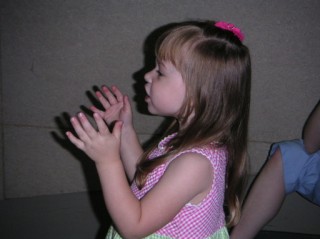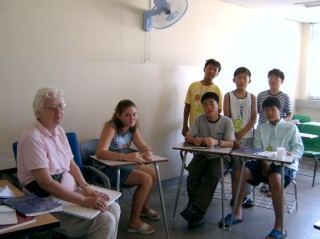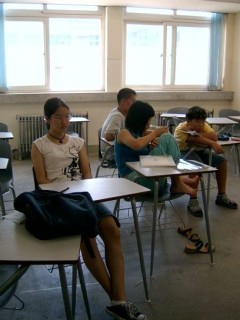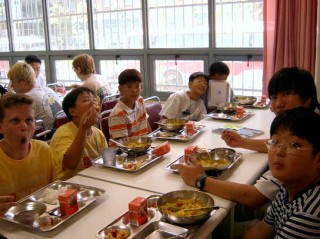 Shelly and chopsticks turned out to be a great combination!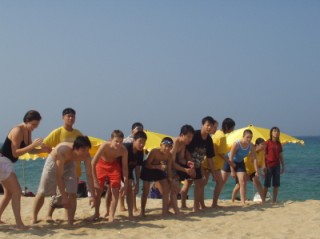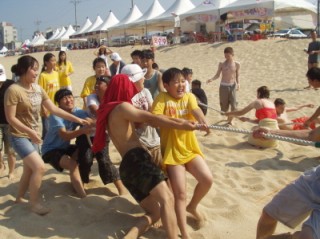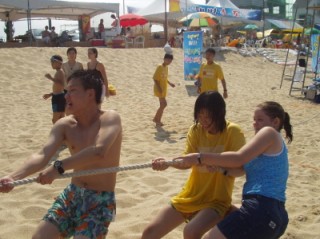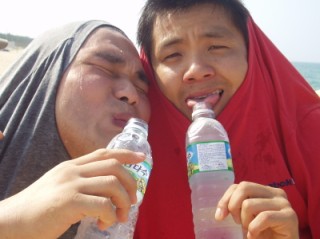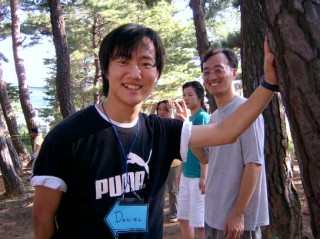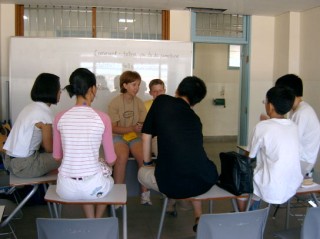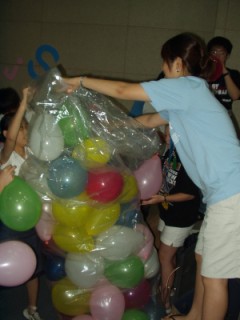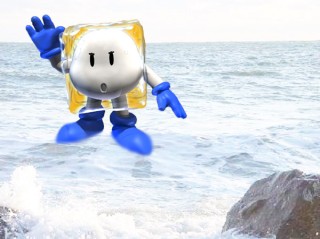 Koreans really enjoy cartoon characters.  In fact, it is not unusual to see a character painted on the side of a building, while you are driving around.  The above character was called, "Ice Man!"  (He is inside an ice cube).  Several times during the week Ice Man made appearances during the evening Power Hour (below).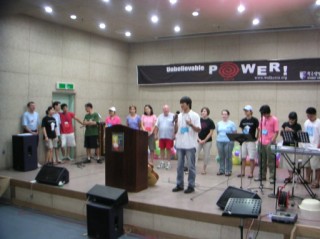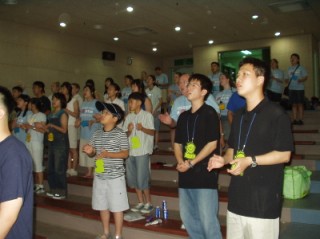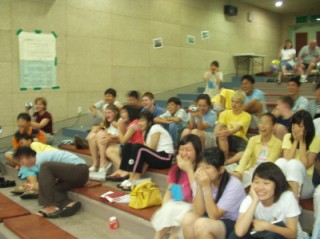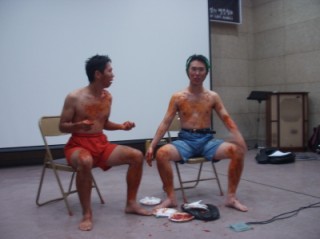 Then there were skits:  These guys, who didn't have a clue about life,  had gone to the beach for the day Unfortunately, they forgot their sun-screen.  But what they did have was some peanut butter.  So, they put that all over themselves.  Later on, they became concerned about their skin drying out.  But, they did have some jelly.   That should fix the problem! So, they put jelly all over. A little later, one of them said he was getting hungry.  Excited about a possible solution, the other pulls out of his nap sack, some bread! So, they just used the bread to wipe the peanut butter and jelly off of each other and then had their sandwich!

The kids absolutely love this, of course, and Power Hour was under way.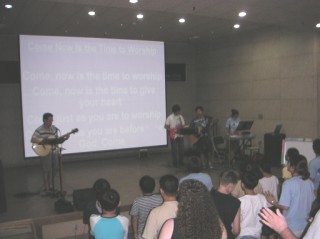 Sabrina really enjoyed the song time.

And Josiah knew exactly what to do when Daddy started teaching (Go to sleep)!

On Saturday morning, just before leaving camp, the counselors and teachers said a few words of encouragement to the campers.  From the platform, as I watched the kids, I could see a few wiping tears from their eyes.  For many, this had been a very special week.  A week where some met God for the first time, and some rededicated their lives to Him.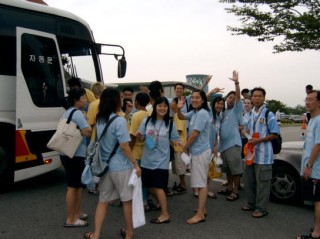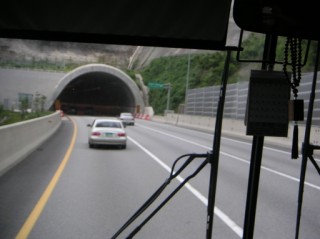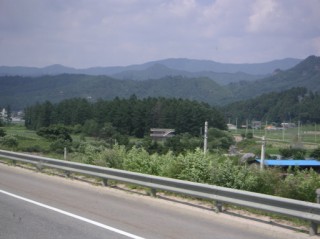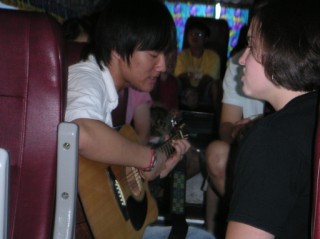 Several sang songs on the way back to Songtan, while Sabrina was in the back of the bus telling  stories to the Koreans about Robin Hood and Cinderella.

The main reason for camp, and the fruit of your praying!

We have chosen the game, "Sorry."

When a card is drawn, together we might all say, "Move five spaces forward." The campers seem to really

enjoy learning a new game in English.