To those who prayed with us, it was a pleasure working together in ministry this weekend. Thanks for doing your very important part!
If you have not yet signed up to be a "Short-term Prayer Partner" I want to invite you to join up by clicking on the link at the
home page
. It is a great way to be apart of overseas ministry without ever leaving your home.

Philippines Ministry
September 8-9, 2002

I am writing this and arranging these pictures over the Pacific Ocean right now. On this flight, however, I am not piloting from the front of the plane, but riding in the back on a passenger airline from China to the United States. After leaving the Philippines, we flew to Beijing and then Shanghai, China. Interestingly enough, today is September 11; a reminder to me about keeping my priorities in the right order.

I am so appreciative to those of you who prayed this weekend for the Philippine ministry. It was certainly obvious that Christians were praying. After arriving ahead of schedule, late Saturday night, I was taken to Clark Field Baptist Church the next morning. This nationally pastored church is located in Angeles City, about 1 1/2 hours north of Manila.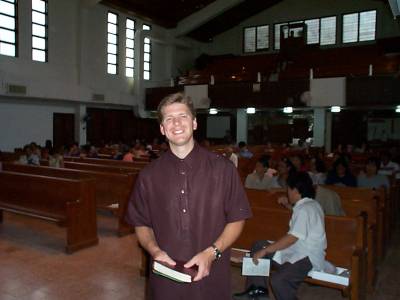 Last time I was visiting, I purchased this shirt, called a "Barong," to wear while preaching in churches. In this country it is considered the eqivilent of a coat and tie. I like this idea. It is much more comfortable than wearing a suit! At the end of the service, the church presented me with a gift, a second barong, for my return visit.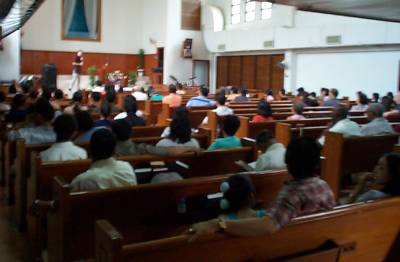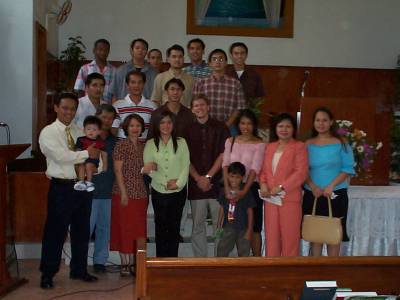 The timing for the visit was perfect. Last month, while meeting with the pastor, he said that on this particular September weekend he was scheduled to be in the southern area of the country. This would be the same area where the New Tribes missionaries had been kidnapped. So, I was his replacement for the morning. (Pastor Chris is pictured in the photos from last month.) God used our meeting in August to schedule several speaking engagements for today and tomorrow.

The service went very smoothly and included many posetive responses from the people. Our message for all three services today was from Luke 18 & 19. Our hearts were well prepared for the message after a wonderful time of praise and worship music. Pictured below are deacons of the church with family and friends. It was great to find such warm fellowship with people on the other side of the world. Only God can do that!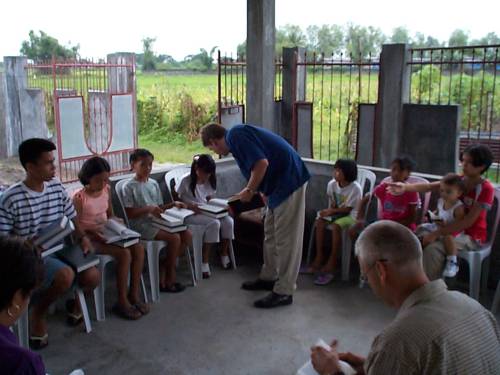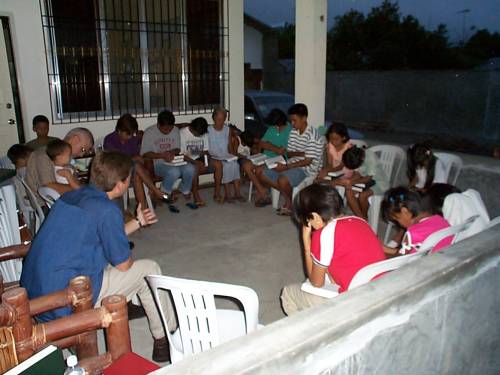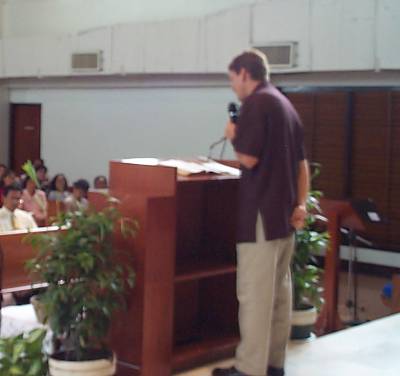 Seven public speaking events in two days. Many Christians encouraged with God's Word, about 20 public decisions for salvation. Thank you for praying.

Sunday afternoon, I went to the home of Tony and Murphy Horn. They are also pictured under the August link. Tony and family have recently moved here from Kentucky to begin a church. They have already purchased land and construction begins on the church this next week. 20 to 30 people regularly attend since the church began on his back porch just over a month ago.

This was a Bible study setting, with a presentation on a kids level. Tony says that right now, his church is primarily a childrens ministry. They are the ones who come most faithfully. And just like most places, the parents are likely to be reached for Christ, as the children are reached. Please pray for the Horn family as they are beginning this new ministry. Tony provides the music with his guitar and also sang in the other churches that day. His music ministry is a real encouragement.

After the service at Tony's, it was an hour drive to the Sunday evening service, at Calulut Baptist Church. Here, I am pictured with Pastor Pons. He interpreted for me tonight, and God helped us to work together well.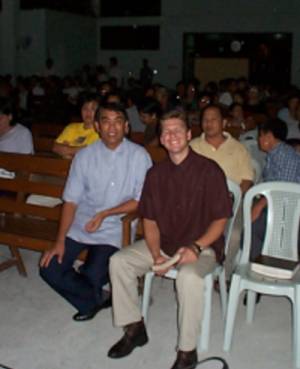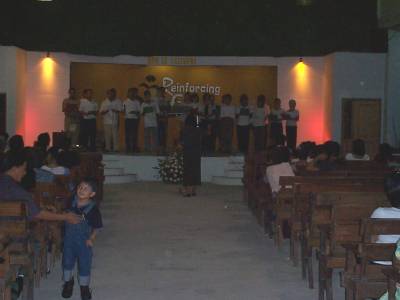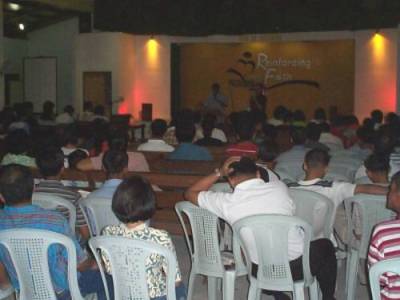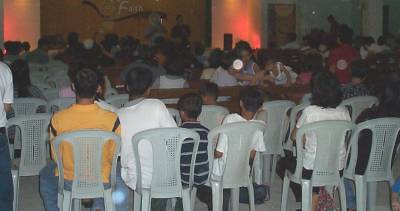 What a tremendous worship time we had in song, which prepared us to hear and respond to God's Word! Pictured below is the "Young Married Couples" choir. They did a wonderful job. A light hearted moment was when the choir director's son (about 3 -4 years old and not pictured), came up from behind his mom and hugged her around the legs, while she was directing the choir!

It was a crowded service that night and everyone listened so intently. I encouraged them in the subjects of prayer and living God's principles, particularly in the area of marriage and other family relationships.

I was told the next day, that some had stayed up until 1:30 in the morning talking about the things we learned from the Scriptures. Praise the Lord for Christians who prayed for receptive hearts and the working of the Holy Spirit in our lives!

After a few hours of sleep, I was to be picked up at the hotel at 6:30 on Monday morning for a 7am chapel at the Clark Field Christian School (Right). If I wasn't fully awake by 7:00, I certainly was by the time I spoke. We sang and did song motions for about 1/2 an hour, which ended up being a great workout!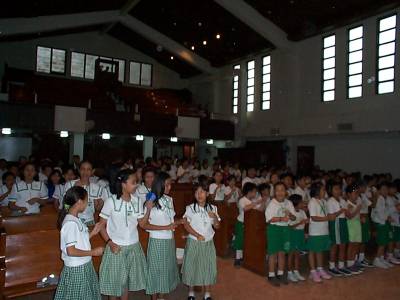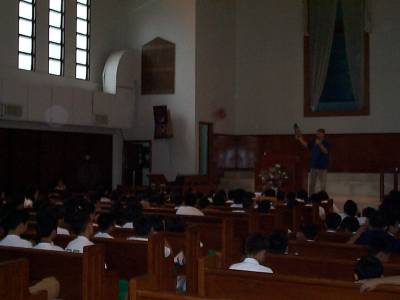 Our subject was from John 1: "Why would John the Baptist call Jesus the 'Lamb of God? " Several kids responded that they had prayed to be saved for the first time.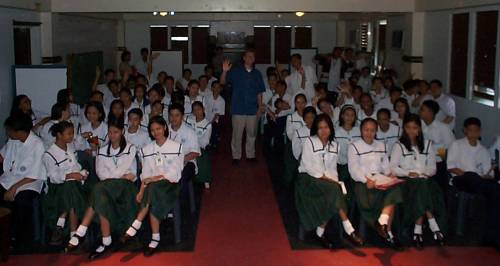 At 10 am we went to another school located near by. This was a private school, but did not call itself a Christian school. The way I was able to speak at these schools below was as a guest lecturer on the subjects of "Drug addiction and premarital sex." My talk would actually be considered apart of their curriculum, and the students would be quized on the lecture. They even took notes.

We had two meetings at this school. The students listened well and responded to questions during the message. Below, I am holding an umbrella. I used this to illustrate the first of three facts we were going to learn about God: "Because God loves us, He wants to protect us from the results of bad decisions."

Like an umbrella protects us from rain, God's instructions for living protect us from the consequences of sin. This was used as we discussed drugs and premarital sex. From there we went to other important facts about God, which allowed me to present the plan of salvation. When we had finished, the students knew 3 important facts about God that proved He loved us.

Special Evidence of people praying: First, when we arrived to speak at the school, we waited a while in an office. Finally, one of the officials comes in and apologized. He said that two of the top administrative people were not able to come to work this morning because they were sick. The problem is that both of them had the keys to unlock the room we were to have the meeting in. No one could find another key. I told him we would be happy to wait (not wanting it to be an excuse to cancel the meeting). Within a few minutes it was unlocked and we were escorted there.
Secondly, towards the end of the next meeting, when I began explaining how to be saved, the sound system started making annoying noises. I did not think this was an accident. I tried to work around it as I led in the prayer for salvation. Even with the distractions, several students publicly demonstrated that they made decisions to be saved, as was the case in the first meeting also. The ages were 15 - 17 years old. These two happenings confirmed in my heart how important the ministry of prayer is. Many thanks to those who prayed during the weekend. Yours was a critical part of the ministry effort.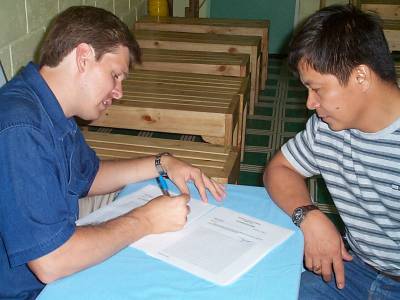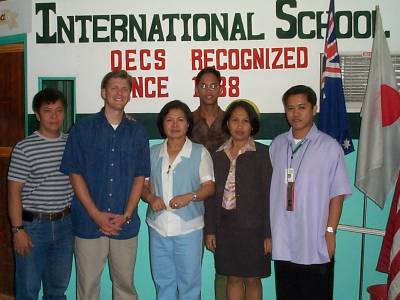 Above, I was at the "International School." Here, there are students from literally all over the world. Their families have moved to this area of the Philippines for various reasons. What a great opportunity this was!

At this school I had to sign a form for every student who attended the lecture. It was a form that was to be sent to their parents. I was signing a statement that I had given a lecture on "Drug addiction, premarrital sex, the child - parent relationship and having a relationship with God."

Here are the school leaders, and my traveling companions, Pastor Rex, and Brother Glenn. Rex pastors a church, attends Bible school and was our driver on Monday. Glenn is the secretary and youth pastor at Clark Field Baptist. He also was responsible for scheduling each of the meetings and making sure I knew what time I had to be there.

To those who prayed with us, it was a pleasure working together in ministry this weekend. Thanks for doing your very important part!
If you have not yet signed up to be a "Short-term Prayer Partner" I want to invite you to join up by clicking on the link at the
home page
. It is a great way to be apart of overseas ministry without ever leaving your home.

(Several pictures here, and they might take about a minute to load.)